Office icon colours: an unusual Microsoft legacy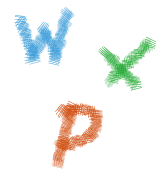 Here's an interesting thought: When you think of word processors, spreadsheets, and overhead presentations, what colours come to mind? Blue, green and red respectively, right?
As far as I can tell, this branding exercise was a Microsoft invention, added in early versions of Microsoft Office to associate the components of Office (Word, Excel, Powerpoint) with the existing four-colour Windows logo (with yellow representing Outlook Express), but it's persisted much further than that.
Google Docs, OpenOffice and LibreOffice all use the same colour scheme. Even Lotus Symphony has broken out of the Lotus standard colour scheme with its 2.0 icons.
I'm fascinated by subtle corporate branding that makes its way into the common consciousness without being obviously detected as such. What else is like this?