"Smartphones" are not phones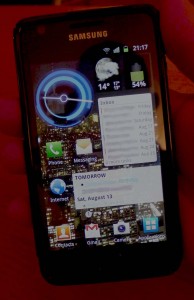 I've recently acquired a Samsung Galaxy S II Android "smartphone", and I couldn't be happier with it.
All day long and wherever I am (more or less) I have unlimited access to my email, my social networks, the news, train times, price comparison, my todo list, my calendar, note-taking, shopping lists, sudoku, maps and a hundred other things that augment my life and improve my productivity.
And then once in a while some smarmy git will say to me, "well, my phone makes voice calls."
And herein lies the problem with the language we use. Phones are supposed to make and receive voice calls, but my device is not a phone. It's a palm-sized tablet PC with voice-calling capability.
I probably wouldn't miss voice calls much if my device didn't make them. I could cope for a few hours without the ability to receive calls but I'd feel awfully disconnected without access to my email. The phone capability is a great bonus, but it's certainly not the primary reason I own this device.
Let's stop calling them smartphones and give them a name they deserve. I vote for "robot servants".