Too many stairs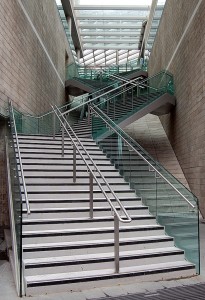 Here's a question that I've been meaning to ask my readers:
How many flights of stairs is too many stairs?
In my last building I lived on the fourth floor1 and I always tried to take the stairs as much as possible but would go up in the lift if I had heavy bags or I was sufficiently tired and/or drunk.
Now I live on the third floor I am much more inclined to climb them even if I'm tired.
I think five, or maybe six, would be the limit at which point the lift would win except when I'm feeling extra-healthy.
Let's take a quick straw poll. Are any of my readers conscious of their stair-climbing limits? Please share them in the comments!2
In Europe this means four floors above the ground floor. [↩]
Twitterers: Please may I request you comment on the post rather than on Twitter because the comments get lost in the sea of time if they're made on Twitter. [↩]